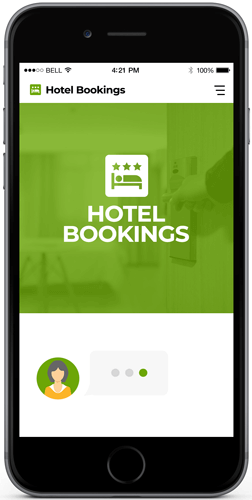 Get an edge over the competition by using our hotel chatbot example to increase your bookings. Also use it to answer common questions. You can fully edit it in just a few clicks (no special skills needed).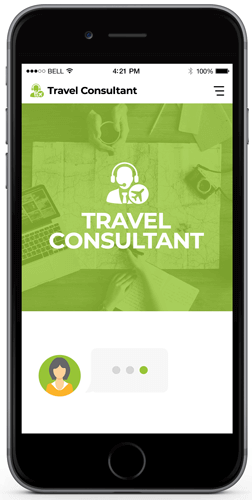 Help your website or social media visitors find the ideal holiday with our travel chatbot examples. Promote special offers, get more leads, increase sales, and provide automated customer service. You can also use our bot to schedule appointments.
How Can You Automatically Increase Sales & Generate Leads With A Bot?
After studying thousands of websites and social media accounts, here's what we discovered:
Most of them suffer from poor user engagement and user experience.
Bots and automated conversation can significantly improve your user engagement.
Bots are interactive and add character. They persuade your visitors to perform key actions through intelligent conversation.
A bot works by encouraging your visitors to interact. Each interaction with a bot is what we call a "micro-conversion."
As the micro-conversions build during a conversation with your bot, the visitor is likely to trust your business. And that's what increases lead conversions.
You can easily edit any of our travel chatbot examples without needing any special tech skills or coding skills.
Our Artificial Intelligence bot technology is drag-and-drop simple. It's perfect for complete beginners, as well as experienced bot-builders.
NOTE: To find bots for other industries, please see the categories on the top left of the page.
We have over 100+ templates for a wide variety of business use cases. You can fully edit or customize any bot in a few clicks. You don't need any special tech skills or coding skills.
Can't find a bot you need? Contact us and we'll build you one for free!
7,317

Businesses Across The World, Trust ConvertoBot





7,317
Businesses Use Our Chatbot Website Platform
12,529
Bots Activated By Our Chatbot Website Platform
12,836,282
Conversations Generated By Our Chatbot Website Platform
Start Getting More Leads, Sales & Bookings Today!
FAQs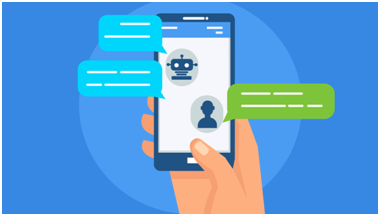 A bot is a software that automatically interacts and has conversations with your audience.

You can use ConvertoBot on your website, as a Facebook Messenger chatbot, or as a WhatsApp bot. It will engage with your visitors through automated conversation.
How can ConvertoBot help my business?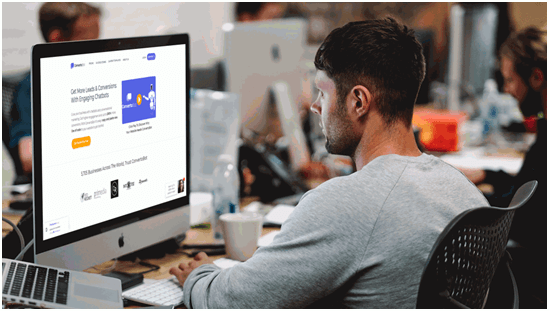 generate more leads on your website or through social media
replace or work alongside your static website forms to capture more leads
use a bot landing page (as an alternative to a squeeze page or lead capture page) to increase lead capture
exit intent popups on your website to generate more leads or sales
generate more bookings or appointments
automate the appointment booking process through conversation
increase sales
drive more webinar or meeting registrations
improve user experience on your website
increase user engagement with your content
increase the following of your Facebook page
carry out surveys and gather feedback
provide customer support or customer service
replace or work alongside your live chat operators
increase engagement rate with your Facebook Business page with a chatbot messenger template
and much more
Set up a free account with ConvertoBot today and watch our training to learn more.
My business takes appointments or bookings. Will ConvertoBot integrate with my booking system?
Yes. We have a sophisticated booking feature that integrates with a wide range of third party booking solutions.

It also integrates with popular calendars so that both you and your customers can save bookings to your preferred calendar.

Create a free account today to watch our video training on our booking feature.

You'll discover how simple it is to use and dramatically increase the number of bookings your business generates.


What are chatbot examples (or templates)?
They are bots that our experts have already built. Sometime building bots from scratch can be time-consuming, so these examples can get you started fast.

We build them for popular industries and use cases. We also work on bots requested by our community.

They're easy to use and customize according to your business needs.

You don't need any special technical skills to start using one of our bots in a matter of minutes.

Start with a free account and discover exactly how easy it is.
Can I edit a bot example?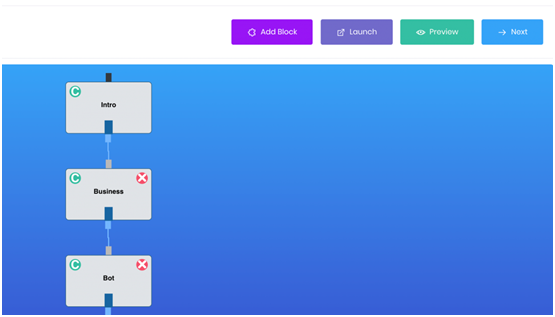 Yes, you can edit any of our examples or templates. It's a simple process and doesn't need any special skills.

You can change the content to refer to your business brand.

You can also use them in a different language. It's possible to automatically translate or manually translate any example.

We have training videos showing you step-by-step, how to edit any template in a matter of minutes.

This includes website, WhatsApp or Messenger bot templates.

Open a free account in under 30 seconds and start watching our training to learn more.


Do I need any coding skills or any special skills to use these chatbot examples?
No, you don't need any special skills. You can install any of our bots on your website, or connect them to your Facebook Business page, or WhatsApp, in a few clicks.

You can also easily customize them or edit them without needing any coding skills.

If you can write and send an email, you already have the skills to use our examples.

We have easy-to-follow training videos showing you exactly what to do. Step-by-step.

Get started with a free account to use any of our 100+ examples today.


What is a lead generation bot?
It's a bot that collects lead information such as name, email, phone number or whatever you need. You can also use it to qualify leads through intelligent and automated chatbot conversations.

It can easily out-perform a static form and convert more visitors into leads.

It works for a wide range of businesses: from brick and mortar to e-commerce. Any business with an online presence.


Can these bots integrate with other software? (e.g. ESPs, CRMs)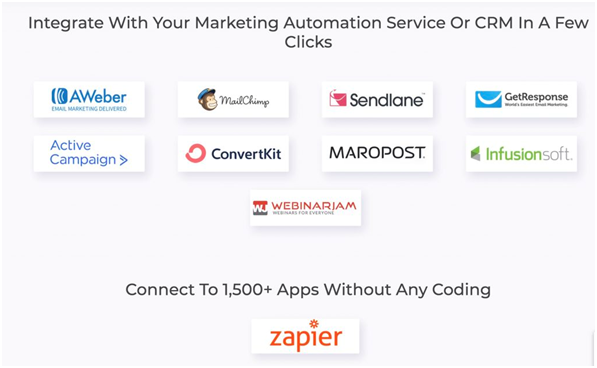 We have several powerful options for integrating your software tools and apps with ConvertoBot:


native integrations with marketing automation tools, ESPs and webinar services (connect to any of them in a few clicks)
Zapier integration allowing you to connect to 1,400+ apps
API integration for more advanced users who want to realize the full potential of our bots

If you have custom integration needs, contact us so we can help set it up.
How easy is it to edit a bot template?
It's a straightforward process. You don't need any coding skills. Our drag-and-drop technology allows even a complete beginner to change our bot examples in minutes.

You can change the written content or change the flow of a bot to suit your business needs.

If you want to use AI bots, they can take longer to set up. That's because they use AI to process the language of the user and provide the best response.
Do I need to download a chatbot template?
No. A chatbot template download is not needed. Our software is cloud-based, so to use a template on your website, you simply add one line of code. We have a simple video showing you exactly how to do that.

For WhatsApp or Facebook Messenger, the process is even easier. You just need to connect your ConvertoBot account to the relevant Facebook Business page or WhatsApp business account.


Yes, you can get started with any of our free templates in minutes.

All you need to do is open a free account. It takes less than 30 seconds.

You get a 14-day free trial, after which you can choose a bot service pricing plan to suit your needs.


Are these chatbot website examples?
Yes. You can use any of these examples on your website in a matter of minutes.

You can fully customize them to suit your brand, products or service.

However, you can also use them on social accounts like Facebook Messenger or WhatsApp. We have bots for WhatsApp and Facebook chatbots examples.

To get started with them on your website, open a free account.
Will they work as a bot landing page template?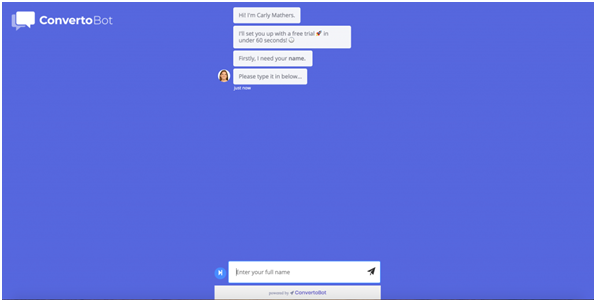 They all work as bot landing pages. We also call these "full page bots."

The entire landing page is a bot with no other content to distract the user.

It's a powerful landing page strategy to drive more leads, bookings, and sales. We have extensive video training on this feature.

In some cases, we've seen an increase in sales of 263.29% when split-testing a traditional landing page against a bot landing page.



Try using a bot landing page template by opening a free account today.
Do these bots work on Facebook?
Yes, they do. Any of the examples on this page work as both website bots and Facebook Messenger bots.

You can edit Messenger chatbot examples in the same way you'd edit website ones. You don't need any special skills.

When you open a free account, you'll see how seamless the process of using a chatbot Facebook example is.


Can I use them on WhatsApp?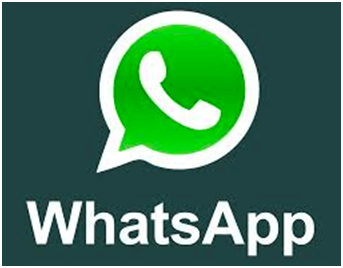 Yes, you can use our examples with WhatsApp.

We will help you get approved and get started on WhatsApp. The process is a little different, and the bots work slightly differently.

Our step-by-step training will break it down for you.

Open a free account today to unlock our training.


I need a chatbot AI example. Will these templates work?
All of our templates can be fully customized to recognize keywords and process comments or questions by the user.

An AI bot takes longer to set up. However, it provides a more natural conversational experience.


Can you build a chatbot for me?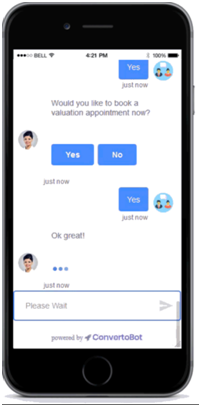 We do have a custom bot-building service. Do you have an idea for a bot? Or do you need a chatbot messenger example? Or do you simply need inspiration and guidance?

Do you run an agency and need an agency chatbot?

We're happy to help create a chatbot for you. Drop us a quick message here to find out more about this service.


I can't find an example for my business. Can you build me one?
If you can't find an example on this page, send us a quick message here.

We'd be happy to build a new example for your business needs. Whether that's a basic bot example or an AI based chatbot example.

Or maybe you need Facebook chat bot examples? Or WhatsApp bot examples?


Can I change the language of these bots?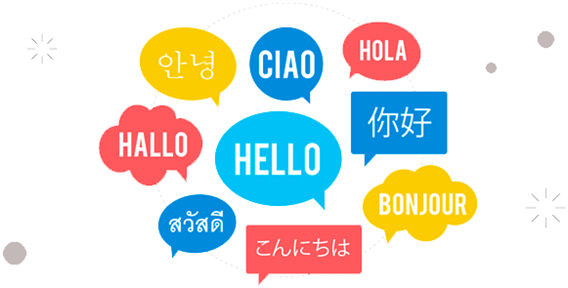 You can use any website, WhatsApp, or Facebook Messenger chatbot example in any language.

There are two options:

- automatically translate the content - or manually translate the content

You can also build your own bots from scratch in any language.
Can I use more than one bot template?
You can use as many bot templates as you need and on as many channels as you want (website, Facebook, WhatsApp etc).

All of our bot service pricing plans allow unlimited bots.
Is it possible to use the same bot example on my website, Facebook Messenger and WhatsApp?
Yes, it is! For a website, you simply copy and paste one line of code.

For Facebook, you don't even need any Facebook chatbot example code. You just connect your account to your Facebook business page. Each bot has its own unique link. WhatsApp is a similar process.

However, at this moment, a WhatsApp chatbot example operates slightly differently due to the rules around WhatsApp. So we've adapted all of our WhatsApp bots.

Set up a free account and watch our free training videos to learn how powerful a bot strategy on multiple channels can be.


How quickly can I get started with a free chatbot using these templates?
The first step is to open a free account.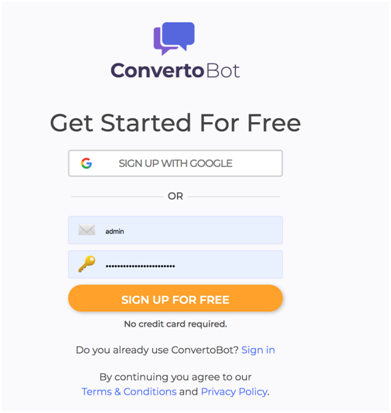 We then recommend watching our basic training to get an insight into bots and our platform.

You can add a bot template to your account in seconds, and customize it in a matter of minutes.

For example, you might want to change the name of the bot to suit your brand. Or add a link to your website.


What's the cost of using these travel chatbot examples after the free trial ends?
Our pricing is highly competitive after the 14-day free trial ends.

You get access to all of our bots, as well as ongoing bots we build, with any of our plans.

You can see a full breakdown of our bot service pricing here.